Los Angeles Dog Trainer, Cora Wittekind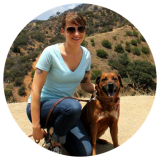 Cora Wittekind
Owner and Dog Trainer
(323) 388-3308
I have over 15 years of dog training experience, but a LIFETIME of animal experience.Growing up in rural Washington State, my family was active in wildlife rehabilitation and took in many raccoons, squirrels, and deer. Having a mother that was a Veterinary Technician, we always took in stray and unwanted dogs. We would rehabilitate and train them, then find them new forever homes. It was through this experience that I found my passion for dog rescue and learned the importance of educating owners on how to build lasting relationships with their dogs.
Working with dogs is a true passion of mine and I couldn't think of anything else that I would rather be doing with my life.
I acquired my professional experience and education from The Academy of Canine Behavior in Bothell, Washington. This is where I learned how to properly identify canine behavioral issues and how to go about solving them using positive reinforcement techniques. At the Academy of Canine Behavior I witnessed many extreme cases, ranging from aggression to separation anxiety. My mentors were the top trainers in their field and stressed the importance of learning theory of dog behavior and canine cognitive abilities. They taught scientifically proven methods to properly condition and correct problem behavior using positive reinforcement as well as how to educate the dog's owners on how to properly apply these techniques.
I worked as head trainer and training manager of The Downtown Dog Lounge in Seattle Wa. for many years before venturing down to southern California. While in Seattle, I was featured on the Woman's Entertainment reality television show, Adventures in Doggy Daycare. Once I made the move to Los Angeles, I became head trainer and manager at Paradise Ranch Pet Resort in Sun Valley.
When managing Paradise Ranch Pet Resort, I continued being active in the rescue community by starting a program called Rescue to Paradise. Working with a team at Paradise Ranch Pet Resort, I would go to local high-kill shelters and select "less-desirable" dogs with behavioral issues and rehabilitate them into adoptable pets. I also have strong ties with Best Friends Animal Society and helped form an enrichment program where they bring their shelter dogs to Paradise Ranch Pet Resort once a week for socialization and play. I continuously strive to further my knowledge of canine behavior by attending seminars of the world's top dog trainers, behaviorists and scientists such as Sarah Whitehead, Shelly Wood, Clive D. L. Wynne, Pam Mackinnon, Jean Donaldson, Bob Bailey, Susan Friedman, Chirag Patel, John Rogerson, Nicole Wilde, and many more.