Los Angeles Dog Trainer, Cora Wittekind
[show-team orderby='title' layout='grid' style='img-circle,img-white-border,text-center,img-above,1-column' display='photo,position,social,telephone,name']
I have over 18 years of dog training experience, but a LIFETIME of animal experience.Growing up in rural Washington State, my family was active in wildlife rehabilitation and took in many raccoons, squirrels, and deer. Having a mother that was a Veterinary Technician, we always took in stray and unwanted dogs. We would rehabilitate and train them, then find them new forever homes. It was through this experience that I found my passion for dog rescue and learned the importance of educating owners on how to build lasting relationships with their dogs.
Working with dogs is a true passion of mine and I couldn't think of anything else that I would rather be doing with my life.
I acquired my professional experience and education from The Academy of Canine Behavior in Bothell, Washington. This is where I learned how to properly identify canine behavioral issues and how to go about solving them using positive reinforcement techniques. At the Academy of Canine Behavior I witnessed many extreme cases, ranging from aggression to separation anxiety. My mentors were the top trainers in their field and stressed the importance of learning theory of dog behavior and canine cognitive abilities. They taught scientifically proven methods to properly condition and correct problem behavior using positive reinforcement as well as how to educate the dog's owners on how to properly apply these techniques.
I worked as head trainer and training manager of The Downtown Dog Lounge in Seattle Wa. for many years before venturing down to southern California. While in Seattle, I was featured on the Woman's Entertainment reality television show, Adventures in Doggy Daycare. Once I made the move to Los Angeles, I became head trainer and manager at Paradise Ranch Pet Resort in Sun Valley.
When managing Paradise Ranch Pet Resort, I continued being active in the rescue community by starting a program called Rescue to Paradise. Working with a team at Paradise Ranch Pet Resort, I would go to local high-kill shelters and select less-desirable dogs with behavioral issues and rehabilitate them into adoptable pets. I also have strong ties with Best Friends Animal Society and helped form an enrichment program where they bring their shelter dogs to Paradise Ranch Pet Resort once a week for socialization and play. I'm a member of the Pet Professional Guild (PPG), and am a certified trainer (CPDT-KA) through the Certification Council for Professional Dog Trainers. I continuously strive to further my knowledge of canine behavior by attending seminars of the world's top dog trainers, behaviorists and scientists such as Sarah Whitehead, Shelly Wood, Clive D. L. Wynne, Pam Mackinnon, Jean Donaldson, Bob Bailey, Susan Friedman, Chirag Patel, John Rogerson, Nicole Wilde, and many more.
Before joining Prestigious Pooch in 2017, Sim Williams (FDM) had previously worked with exotic animals for over a decade in his hometown of Portsmouth in the UK. It was during this time that he had gained an extensive knowledge and insight into the welfare & behaviour of animals.
His journey into dog training started in June of 2016 after being introduced by mutual friends to his now wife and founder of Prestigious Pooch, Cora, whilst on a trip to California. During this short period, Sim had unbeknowingly proven himself to be somewhat of a natural when it came to canine behaviour, even without any previous dog training experience.
When he was finally able to permanently move to the US in November of 2017, Sim was finally able to put his previous studying and part time dog training experience into full time action. After
being trusted with daily training reinforced walks for long-time clients, helping out with training and caring for board and train dogs at the home, as well as helping to test therapy dogs, he began to take on his own personal clients in the summer of 2018. In the last 5 years,
Sim has built up loyal, trusting client base and has successfully worked with a large variety of different dog breeds, all with varying behavioral issues. It's because of this extensive, firsthand experience with both private clients and board & train dogs that he is able to understand what it truly takes to be successful with behavior modification. Whether its reactivity, anxiety, "aggression" or any of the other emotional responses that come with the extremely complex canine mind, Sim understands that building initial trust is intergerial to long term success.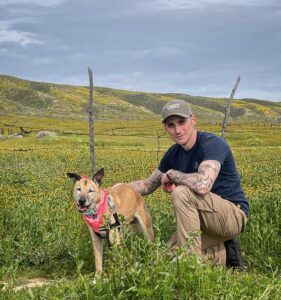 Throughout his journey, he has continued to regularly attend dog training and behaviour seminars and courses both physically and digitally and officially became a Family Dog Mediator in January of 2023.
Although continuously engrossing himself in the world of dogs since 2016, Sim still finds the time to continue on with his lifelong passion of reptiles. He currently has three snakes, a Dominican Red Mountain Boa (Ursula) a Dumerils Boa (Carol) and an Eastern Ratsnake (Wayne).
He is still very active in the herpetocultural & herpetological society and is an advocate for the better care for captive reptiles as well as regularly hosting seminars in the hopes of reducing fear and persecution towards wild snakes. Sim also offers a free rattlesnake relocation service within the small mountain community in Southern California where Cora and he reside with their two dogs, Sadie, a thirteen year old pitbull / chow mix & Rodney, a six year old Chinese village dog.