Therapy Dog Preparation Training
What is a "Therapy Dog"?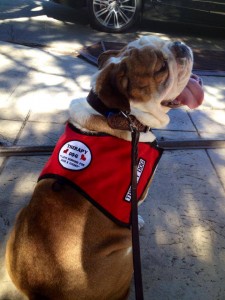 Therapy Dogs are NOT service dogs. Therapy Dogs are volunteer trained dogs, along with handlers, which are brought into schools, hospitals, convalescent homes, and other therapeutic settings to interact with patients and staff. The dogs are there for the patient to pet, comb or just talk to. The results can be as dramatic as sparking a long forgotten memory to simply calming the patient down during a treatment. The rewards of volunteering as a Therapy Dog team are not only beneficial to the patient, but also for you and your dog!
IMPORTANT- IT IS NOT A REQUIREMENT FOR A DOG TO HAVE SPECIFIC TRAINING PRIOR TO TAKING THE INITIAL TEST FOR THERAPY DOGS INCORPORATED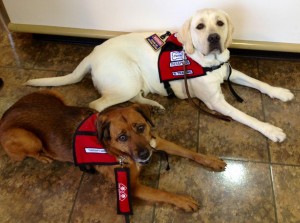 Obedience training will benefit you and your dog and will help you learn how to handle certain situations that can be potentially stressful for your dog. It will also teach your dog how to stay focused on you and remain calm in highly distracting environments. An even temperament and proper socialization are key elements for a dog to become a registered Therapy Dog. By working with a trainer that is experienced in Therapy Dog preparation training, it can help an owner understand what is required of them and their dog in order to become a confident Therapy Dog team.
If you have a particular hospital or facility that you are interested in volunteering at, please check with them to see if they require you and your dog to go through their own designated volunteer program.